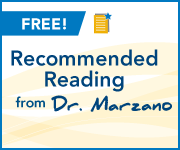 Setting the record straight on "high-yield" strategies
Dr. Marzano contends that classroom strategies found in books are a good place to start, but schools must move beyond simple lists to get results. This recommended reading examines why using a comprehensive framework or language of instruction should be the basis for professional dialogue within your school or district.
Download your free copy now!